Local Products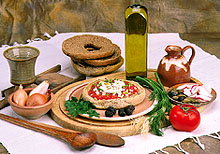 In Peukoi fertile grounds and suround areas, flourish and cultivated huge areas of olive plantation which called "Liofyta" by the locals. These olive groves produce the famous olive oil that is well-known for its unique quality as well as is considered one of the healthier oils in the world.
The local residents cultivate vines, where they produce wine but also the traditional 'raki' or 'tsikoudia'. Tsikoudia or raki is produced by the distillation of grapes where the process is complicated. It is clear alcoholic drink with particularly sharp flavour. In addition, you will be impressed by the people' hospitality where if you would be there they will offer you a raki. Do not reject their offer. For them it is not only a traditional drink. It is the crowning of new friendship and a warm welcome to their home. Try it!
Moreover, Pefkoi area is famous for its vegetables products. Cucumbers and tomatoes are the two well known vegetables products for the quality, freshness and taste.
In addition, famous country products are the traditional cheeses. Graviera, anthotyro, xygalo and the cream cheese are distinguished for the flavour and their quality. These products are produced in traditional way. You will be able to taste it in the taverns of Makry Gialos.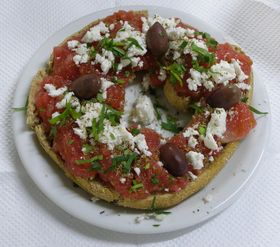 Many locals deal with apiculture, where the thyme honey is special of its exceptional quality, colour and perfume. Furthermore, Peykoi produces tastefull bakery products by the use of traditional recipes. Cretans' rusks are traditionally cooked.

The "Dakos" or "kouloukopsomo" constitutes a traditional dish and is very famous. It is rusk with chopped tomato on top, anthotyro and olive oil.
Also "kalitsounia"are similar to sweet cheese pies. Their sweet dough is made traditionally with barm, in combination with the local cream cheese they make an extraordinary tastefull flavour. Try it!